The ideal supper for a chilly April evening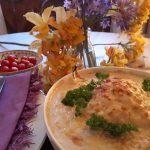 Cauliflower Gratin with Red Onion Marmalade
2017-04-24 20:43:43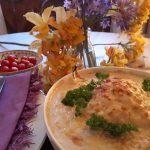 Ingredients
1 Head of Irish Cauliflower
2 Tbs Butter
2 Tbs Plain Flour
2 Cups of Milk or 1 Cup of Milk & 1 Cup of Stock
½ Cup of Grated Cheese – of your choice
¼ Cup of Grated Parmesan Cheese
2 Dessert spoons of Janet's Country Fayre Red Onion Marmalade
Instructions
Turn on the oven to 180 degrees
Remove the outer leaves of the cauliflower and cut off the base stalk. Leave the cauliflower whole.
With a sharp knife score the base of the cauliflower.
Put the whole cauliflower into a steamer and steam until almost soft but not soggy !!
Remove from the steamer and place in an oven proof serving dish.
For the sauce
Melt butter in heavy saucepan on top of stove.
Add flour and stir until well mixed and bubbly being careful not to scorch.
Remove from heat and add milk / stock; stirring with a small balloon whisk until smooth.
Return the sauce to the heat and gently bring to a boil, stirring constantly.
Reduce heat, add shredded cheese and parmesan and cook until cheese melts.
The stir in the Red Onion Marmalade.
Pour the sauce over the cauliflower. Add a generous sprinkle of grated cheese on top.
Pop in the oven for 10-15 minutes.
Serve and enjoy !
Notes
I often add some cooked lardons of bacon into the sauce. Try O'Neill's from Wexford
Janets Country Fayre https://www.janetscountryfayre.com/
Red Onion Marmalade