Have some family fun with our Irish pizza on St. Patrick's Day.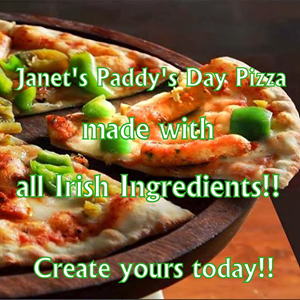 Paddy's Day Pizza
2017-03-15 09:46:35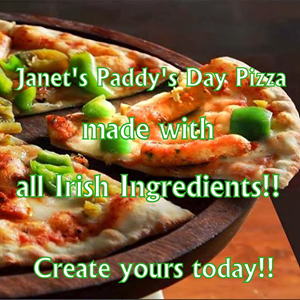 Our fun St. Patrick's Day homemade pizzas using all Irish ingredients
Pizza da Piero pizza bases
Janet's Just Delicious Original Pizza Sauce
Toon's Bridge buffalo mozzarella
Brady Family ham pieces
Shamrock shaped green pepper slices !
And any other Irish ingredients that take your fancy !
Instructions
Heat up the oven to 200c. Place pizza base on baking sheet. Spread on the pizza sauce. Then add all your other ingredients and top with slices of mozzarella cheese. Pop in the oven for 10-15 minutes.
Slice and eat !
Janets Country Fayre https://www.janetscountryfayre.com/